Premium, Affordable Questions-Answers Service
At PrimeEssay.org, we offer a full array of academic help ranging from essays, thesis papers, dissertations, PowerPoint presentations, Excel help, and discussion board posts. But a lot of people might be surprised to learn that one of our most successful services is our question-answer test assistance. For a reasonable price, you can forgo all of that study preparation and hire a professional expert to take your tests for you! Imagine getting a great score on an exam without lifting a finger! Whether you are running short on time or simply want the freedom to focus on more important things, our test-taking service offers the perfect solution!
Our Reliable Questions-Answers Services
Our paper-based questions and answers service is straightforward. As you place your order to have an expert take your test, specify the topic of the exam and the format. Send us the list of questions and your professional will go about answering them. Whether the exam requires a series of paragraph answers or is meant to be composed like an essay, you can be certain that we have a knowledgeable writer who can complete it. In regards to the word amount, we charge the same rate as we would a custom essay (300 written test words = 1 essay page). Note that we do not calculate the questions in the word total.
Multiple Choice Questions
If you have a multiple-choice question test that needs to be taken, our experts can do that too! They know all of the proven techniques that can maximize your score. For instance, they are adept at eliminating the incorrect options and focusing on the right answer. They also know how to manage their time well, which ensures that they will be able to answer all of the questions before the allotted time expires. While we can complete these tests on short notice, for the best results we recommend that you provide us with any relevant study materials and give your hired test-taker a reasonable amount of time to prepare. Note that the rate we charge is 5 multiple choice questions = 1 essay page.
An online test is done online. In any case, it is possible to order if at our agency. The usual deadline for online tests is 3-6 hours. The word count calculation is 5 test questions per one page.
Strategies for Answering Open-Ended Questions
In contrast to close-ended questions in which the student is asked to answer "yes" or "no", professors like to test their students using an open-ended format when they want to measure their ability to think critically and incorporate their own personal insights. Sometimes the entire exam will consist of this format whereas at other times the professor might include a combination of open-ended, close-ended and multiple-choice questions.
If the open-ended question requires you to elaborate and provide evidence, you should try to give yourself around 15 minutes to complete each one. It is important to carefully read the question so that you fully understand the intent. After all, you would not want to waste your time by including information that is not explicitly required. You should also check and see if there are multiple parts to the question so that you do not accidentally skip anything. You should also utilize the QASI (Question, Answer, Support, Insights) method.
It is important that you finish your answers on a high note, so keep them creative.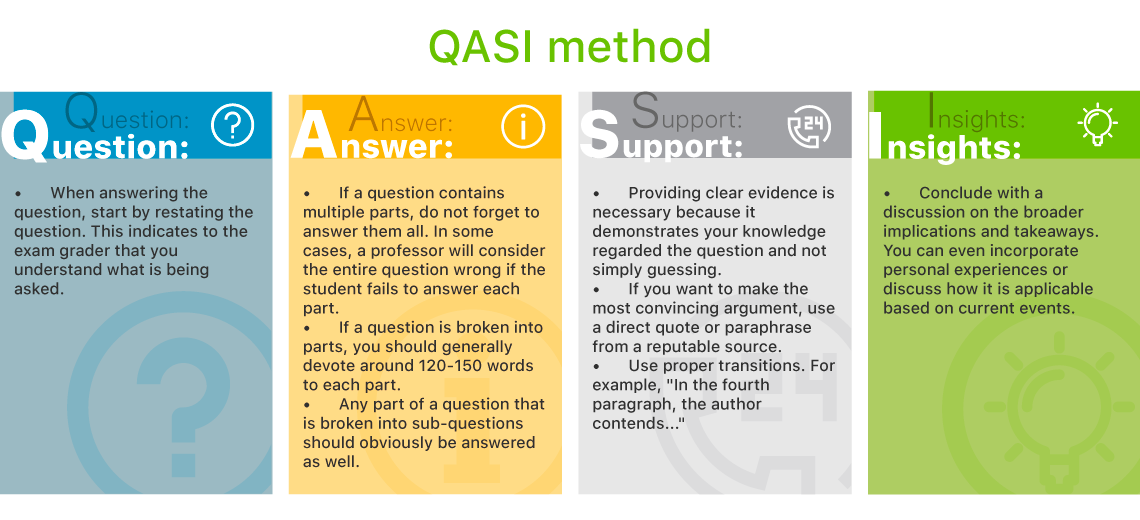 Additional Tips for Writing Successful Short Essay Questions
Make sure the question is really clear to you
This tip is extremely important. There would be nothing worse than writing a well-constructed answer only to find out it was not actually related to the question. Students who rush through their exam often make this mistake. While you need to manage your time well, you still need to take some time to make sure you understand the question.
Use persuasive and emotional language
You want to appeal to the test grader's emotions. Make convincing statements, keep it factual, and avoid including irrelevant information, as it will only create distractions.
Choose your arguments carefully
While you might feel tempted to include as much information about a topic as you can, your best bet is to keep things focused. Since you would want to limit your answers to around a paragraph (generally a maximum 150 words, but it depends on the professor's instructions) you would want to pick the strongest arguments. You might think that adding a random factoid will make it more interesting, but the test grader will likely not be impressed.
Read more here: Creating a Perfect Presentation Poster Book Review Help Write an Annotated Bibliography Discussion Board Post