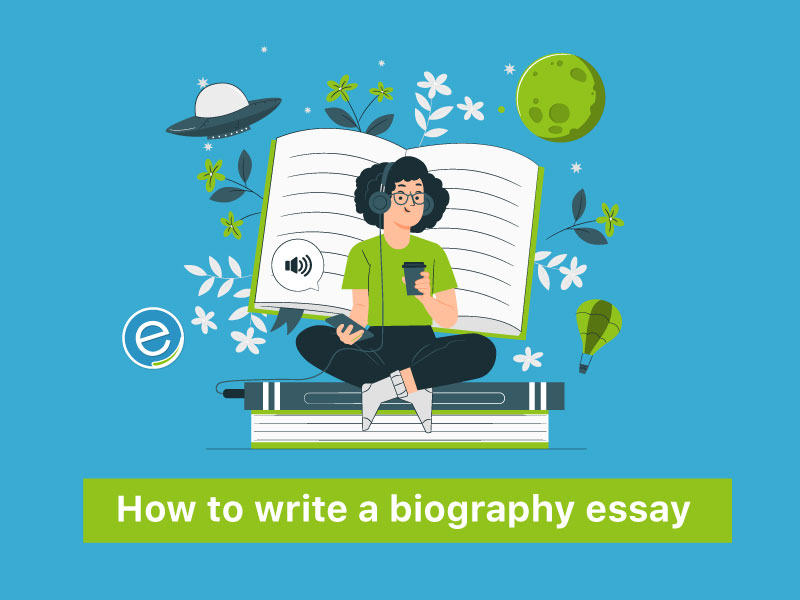 When you are assigned a biography essay, you may think, "What can be easier? I will get a good grade for this work!" Well, of course, if you know how to write such a paper, you will greatly enjoy the writing process. However, if you have never worked on such assignments before, you may encounter various difficulties in completing the task. If you think that you will receive a good grade just for tedious presenting the facts of someone's life in chronological order, you are wrong. Nowadays, when so many papers are written, it is particularly important to know how to write a biography essay in a way that will engage the audience.
When writing a biography essay, you will need to tell the life story of a person including the details that will spark the interest of your audience. To help them enjoy your story, you will need to add vivid descriptions, interesting twists, and many other elements that will make your story look interesting. Thus, at our custom writing service, we have created a detailed guide to help you complete this assignment successfully. By following our suggestions, you will be able to create a high-quality paper that will impress your reader and get the anticipated outcome.
Calculate the cost of essay
What Is a Biography Essay?
Many students mistakenly believe that this document should tell the story of their life, though this claim is only partially true. Your paper can be also written about a famous actor, musician, artist, scientist, politician, dancer, inventor, or any other person, whose life is worth investigating. Despite its complicated nature, this task is very interesting and enjoyable. You should treat it as a chance to look into someone's life, learn their life lessons, and find out what events have changed these people.
When writing a biography essay you should include the basic elements:
A clear thesis that will summarize the life of an individual;
An introductory section that will provide relevant background data about this individual;
Several supportive paragraphs highlighting the most important and vivid facts from their work and life;
A conclusion that will wrap up the paper explaining what impact this person had on society.
If you manage to write a successful biographical paper, then your reader will have a clear idea about who this person is. What is more, your target audience will also understand what contribution this person has made to society or a particular area of knowledge, and what makes this individual different from others. You should know that a biography paper is similar to many other essay types, such as a narrative or personal essay because it involves telling a story. However, compared to these works, your paper should be based on historical facts. Its author should use objective language and tone.
Writing a Biography Essay: Essential Steps
So, how to write a biography essay? The process of writing includes several main steps. You may find them below:
Step 1. Choose the right individual. If you want to write a good paper, you will need to choose someone who has a significant impact on society. In case you are not sure what person to select, you can carry out preliminary research that will help you understand which people are of interest to your audience;
Step 2. Look for credible sources. When writing a biographical text about a famous person, you will need to look for relevant, credible, and up-to-date information about him or her. When searching for the best sources for your paper, you can work with interviews, journals, videos, newspapers, documentaries, letters, books, etc. When studying these sources, you will need to highlight the most interesting facts about this individual. If you choose to cite any of these sources in your work, you will need to follow the formatting style requirements outlined in the instructions for this assignment.
The best way to organize the research process is to create a list of questions and then answer them by finding the necessary materials. These questions can be as follows:
What episodes from the individual's life should be familiar to the audience?
What are the main achievements of this person?
What are the lessons that can be taken from this person's biography?
Step 3. Create a biography essay outline. Each academic paper should have a good plan. Otherwise, it may be too shallow or disorganized. Therefore, before you start working on your assignment, you will need to come up with an outline. It will include all the facts and ideas that will be presented in your paper. According to a traditional biography essay template, your paper should include an introduction, main body, and a conclusion.
Step 4. Write an introduction. The introductory paragraph should help your reader understand your interest in the life of this particular individual. Without providing too many details about this person, you will need to explain that the chosen figure deserves attention.
Order VIP Services
The best way to write an introduction is to do the following:
Provide the information about this person's impressive accomplishments;
Tell an anecdote or an interesting story about this person;
Include a claim made by this person that has become known to a wider audience. It can also be a quote that can characterize him or her.
What is more, here you should also present basic information such as:
The date and place of birth;
The date of death if applicable;
Educational and cultural background;
Main areas of expertise;
The most significant achievements;
Professional experience.
At the end of your introduction, you will need to include a thesis statement that will become the central idea of your work.
Step 5. Write the main body.
In the main body of your paper, you will need to present the life and career path of the individual helping your reader to understand the main accomplishments of this person. This section should be divided into several paragraphs according to the periods of the person's life. In case you include some quotes from this individual or other people, you will need to cite them carefully to avoid plagiarism. If you are not sure how this type of paper should be written, you need to have a look at some biography essay examples available on the web.
Check this out
Try benefits from
our
Top 10 Writers
Benefit from the incredible opportunity at a very
reasonable price
Order only for $10.95
Step 6. Write a conclusion. Finally, you will need to write a concluding part of your paper. In this part, you will summarize the main achievements of the person you are discussing. Also, you should restate your thesis statement and sum up all the important things you have mentioned about this famous person in the body of your work. Pay attention that the final paragraph of your academic paper should be free from new information. As you know, a conclusion will make the strongest impression on your readers. Thus, you will need to choose appropriate words when summarizing the life path of the person.
Step 7. Write a bibliography. When writing your biographical paper, you will need to use different sources that will help you learn more about a person of your interest. No matter what kinds of sources you will use, all of them should appear in your reference list. If you fail to cite your sources properly, you may be accused of plagiarism.
Additional Tips on Writing a Biography Essay
Now that you know the basics of bibliography essay writing, you should try to make your masterpiece flawless. Have a look at the tips and suggestions collected by our experienced professionals:
You need to follow a chronological order when listing the events happening in the person's life. In some cases, reverse chronological order can work as well, but a traditional chronological order will make your paper easy to read;
Not all events from the life of this individual are worth mentioning in your work. Before you start working on your paper, you will need to study various facts from this person's life in detail to figure out what episodes are worth mentioning;
When writing a biography essay, you will need to have an objective understanding of the person's life. Even if some of the episodes seem too weird or unreasonable to you, you should allow people to live their lives. Your readers do not want to read your opinion. By providing information objectively, you will allow them to make their own conclusions.
Example of a Biography Essay
David Crystal

Check this out

Try benefits from

our

Vip support

Benefit from the incredible opportunity at a very
reasonable price

Order only for $9.99

One of the most famous philologists in the world David Crystal was born in 1945 in Lisburn, a city in Northern Ireland. However, early days of his life the linguist spent in a port town Holyhead. The birthplace had a great impact on the boy's interests as David had an opportunity to hear two languages, Irish and Welsh, spoken. However, despite the multilingual culture he lived in, the only native language for young David was English. According to the Crystal, the very phenomenon of his monolingual existence in the multilingual world had aroused his interest to languages. When the boy was six years old, his family settled in Liverpool where David enrolled in St. Mary's College. Here, in David's school program were included two more languages: French and Greek.

As it was already mentioned, since David Crystal's childhood, English language has been in a primary focus of the linguist. Language passion urged him in 1959 to obtain a seat in the English Department at University College in London. However, the process of studying was not as easy as it had been expected to be from the very beginning. David had to learn very interesting subjects, such as Old English, Gothic, and Old Norse, from the poorly written lectures and textbooks. Nevertheless, the information gap only made the student thirsty for the new knowledge. He studied intensively and obtained excellent background in English phonetics, grammar, and literature. In 1960, David became acquainted with another prominent philologist R. Quirk and started the cooperation with the latter on the Survey of English Usage.

Affiliate program

Refer your friend to our

service and

receive 10%

from

every order they place

Every month the best selling partners receive presents from our company!

Read more

In 1962, David Crystal graduated from the college, and two years later, in 1964, Crystal published his first book. From that very date, he won his fame as a linguist. It goes without saying that the contribution of David Crystal in the field of linguistics cannot be overestimated. His works are predominantly devoted to the sphere of stylistics, intonation, and phonetics. A great achievement of David Crystal is the investigation of the application of linguistics in therapy, religion and education. In 1995, because of his achievements in the investigation of English, Crystal was awarded the Order of the British Empire. Among the main works of David Crystal are the world's famous encyclopedias: The Cambridge Encyclopedia of Language (1987), The Cambridge Biographical Encyclopedia (1994) and The Cambridge Encyclopedia of the English Language (1995). English phonetics is precisely described in Prosodic Systems and Intonation in English and also in The English Tone of Voice. Introduction to Language Pathology, Clinical Linguistics, and Profiling Linguistic Disability belong to the field of clinical English. Crystal's school books Discover Grammar, and Language A to Z are still extremely popular among teachers and pupils. Moreover, much of his efforts David Crystal directed to the investigation of peculiarities of children learning language. He worked as an editor for such magazines as Journal of Child Language and Child Language Teaching and Therapy.

David Crystal promoted the popularity of the English language not only on the pages of his books, but also through the Internet, radio, television and other types of media. Since 1986, he worked as a consultant in the program The Story of English, which was on air at BBC. Soon, the radio version of the show appeared, where David's functions included both writing and representing the program's scenario. There is no wonder that through his life, David Crystal became a holder of numerous awards. The title of Honorable Professor at the Welsh University, a chairman of the UK National Literacy Association, a member of the Board of the British Council, and patron of the International Association of Teachers of English as a Foreign Language are among them.
Sometimes, it is better to have a look at a well-written example instead of reading numerous theoretical rules. If you are not sure how to structure your written work or what biography essay format you should follow, you need to have a look at some good and relevant examples and they will greatly boost your writing talent. Thus, you will receive some efficient hints that will help you to get a good grade for this assignment. In case you have no time or writing skills to work on your essay, or you are unsure of how to write a biography essay in a perfect way, you should consider outsourcing this task to our professional team of writers. The hired professional will carefully follow all the requirements and instructions. You will be provided with a perfect paper. We will do our best for you to be satisfied with your choice.
Customer reviews
What customers say about our service