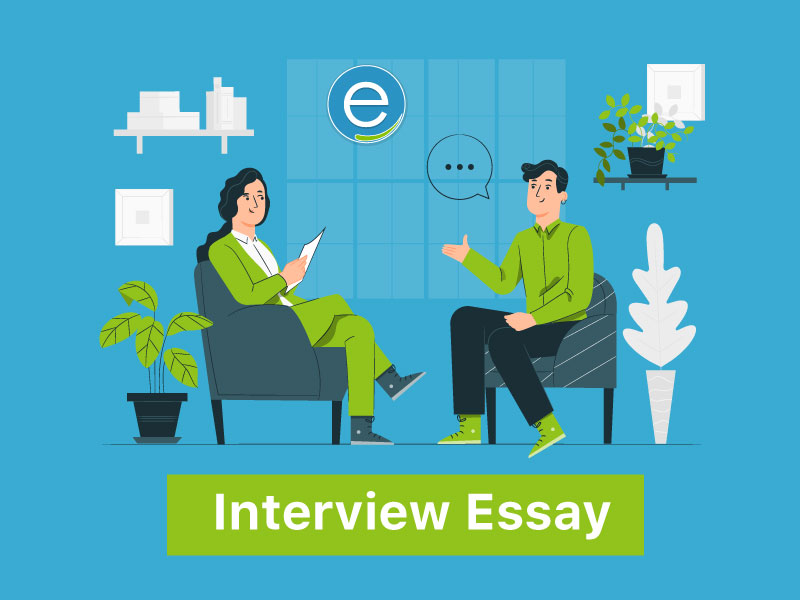 Definition of an Interview Essay
It is a kind of a reflection paper that intends to provide a brief and concise record of the main information that was gathered during the interviewing process. After an interview has been conducted with a person or a group of people on a specific topic, you may want to organize the results and findings in one paper. This is what an interview paper is for. The very paper should not be a summary of everything that was said in the interview — it should rather be related to the given topic. More so, you have to provide your comments on what was said by the interviewee, what topics you touched upon, and so on. Depending on the essay prompt, you may need to emphasize your and the interviewee`s opinions on the subject matter, comment on the overall impression whatsoever. If you had to conduct an interview that does not demand to provide a personal opinion, keep in mind that this section should not be added.
Interview Essay vs. Research Paper Writing
In some cases, an interview may be a part of the research process. In such case, it is used as a means of gathering qualitative data, especially if you need to gather some evidence from the sample population. Still, an interview paper can be an independent task that is written no matter whether you need to provide some major research project or not. All in all, the interview paper and the research paper are different in the following terms:
The purpose of an interview is to collect information, whereas the aim of the research paper is to conduct a topic analysis.
In an interview, you deal with specialists and experts in a certain field, whereas in a research paper you work with sources that help you to synthesize information.
To write an interview paper, you have to conduct an interview with a real person, whereas you can write a research paper by relying merely on books.
Interview writing does not require any sources but for the interview record. A research paper, on the other hand, should have a list of credible sources.
An interview paper contains a set of questions, whereas a research paper has a specific structure of the body paragraphs you have to adhere to.
How to Write an Interview Essay?
If you wonder how to succeed in interview paper writing, check out the template below:
Pay attention to the topic. Think of the person who will be most suitable for the interview.
Critically analyze the purpose of your conversation. Pay attention to the target audience and their interests in relation to the interview purpose.
Compose a list of questions. Each of them should be devoted to one specific point.
Get an audio recorder so that you could focus on the very interview in the process.
Make sure your essay has a central idea and focus.
Interview Sample
Spiritual assessment is a practice that enables health assistance providers or researchers to identify the spiritual needs of a patient. This analysis can be conducted to meet a specific goal, such as individual, organizations', or government interests. In order to perform the assessment, some questions should be prepared for the interview of the patient. A presenter interview is a useful tool for assessing the spiritual needs and concerns of the patient. The task of this analysis is to develop a spiritual assessment for the interview and to analyze the interviewee's experience and to identify all possible aspects.
Calculate the cost of essay
Part I: Interview
Question 1. How do you understand suffering?
I think suffering means lying in the bed without a chance to do anything. It feels as if I am punished for something. Sometimes, I just want to die in order to get away from all this pain, but God does not take me.
Question 2. From which sources do you receive hope and strength?
My family is my strength. At the same time, praying helps me gain hope and strength, just like the fellowshipping at the local church where the word of God supports me and helsp survive another day.
Question 3. How does praying help you every day?
Hope is the only thing that makes me keep going despite all challenges and difficulties. I only hope that one day, all my sufferings will end. Prayers help me to save hope that also helps me keep fighting.
Question 4: How has the illness affected your life and the life of your family?
The understanding that I have cancer has affected all of us. I am worried about my children and wife. I want to see how my grandchildren will grow and I want to be with my family, but I realize that it is not possible because the illness will take me away from them. At the beginning, my family was crushed, they kept crying, imagining all bad things and having bad thoughts. However, after I began praying and building my hope, they also started hoping for the best result. This is what helps us survive my illness.
Question 5. Do you have some spiritual beliefs that help you handle the stress?
Yes, I am Christian and I believe that God can hear our hopes and wishes. I think God is in control of my life and I can handle all challenges with His help. Even if life seems to be stressing and miserable, everything happens according to God's plan.
Question 6: Have your beliefs impacted how you take care of yourself during the illness?
Yes. When I realize that God is in control, He provides me with the hope and encourages me to move on further. I cannot and will not give up my life.
Part II: Analysis
The interview continued for 40 minutes. The demographic characteristics of the interviewee are as follows – male, 64 years old, African American, religious affiliation – Christianity. The presented questions help achieve some progress from a general understanding to the particular concepts of practical application through obtaining information about sources of hope for patients, their individual practices and spirituality meaning, and the spirituality effect on their medical care decisions (Saguil & Phelps, 2012). The assessment tool was formed based on the questions gained from the Joint Commission, the so-called HOPE questions.
The interview went well because the interviewee was comfortable with discussing the spiritual needs questions. Most responses triggered a lengthy response that sometimes led to other conversations that were not in a close relation to the topic. Nonetheless, for the goal of this interview, the answers were shortened to specifically answer the questions asked. The participation in this assessment was enjoyable because the conversation was a pleasant experience.
The main barrier to the interview was its duration time. Realistically, in the healthcare setting it is impossible to have so much time to finish the assessment. The interview was provided through the phone conversation and lasted for 40 minutes. One should understand that in the future, in order to finish the assessment effectively, the patient should be notified of the time they have for answering questions. Moreover, it is possible to provide patients with the paper with questions and a pen to write them down. This will prevent a patient from focusing on other topics, unrelated to the main theme of the interview.
Order VIP Services
This tool is efficient in realizing the patient's needs. The results of these questions will allow a better understanding of the importance of spirituality to patients' preferences in medical treatments and intervention. Patients with particular spiritual views and concepts can experience some pressure from the psychological perspective if they are assured that some specific issue is provoked by lack of spiritual belief or hope. Assessing and incorporating the spirituality of every patient into their care can build the trust and rapport as well as strengthen relations between patients and their caregivers.
It is possible to notice that an illness and, as a result stress, are strongly related to the patient's spiritual needs. In particular, it is clear from the interview that the illness increased the interviewee's belief in God and religion. Daily prayers help him maintain his hope in order to survive cancer. Moreover, the patient is more focused on the spiritual needs in order to calm his family. Through spiritual beliefs, the man seeks a way to accept his illness. Once he has accepted it and found hope, the family also can find it and become a strong support to him.
Check this out
Try benefits from
our
Top 10 Writers
Benefit from the incredible opportunity at a very
reasonable price
Order only for $10.95
Conclusion
Overall, spiritual assessment helps healthcare givers to identify and provide patients' needs. Spiritual assessment tools are crucial for identifying spiritual distress and address patients' further needs. Hence, the usage of the targeted spiritual assessment tool as well as proper staff training and education can lead to a better care provision to patients.
Customer reviews
What customers say about our service